Amberjack Solar Energy

, headquartered in Oakland, NJ,
recently expanded its clientele with
Jack Daniels Motor, Inc
, a New Jersey-headquartered conglomerate of dealerships including Porsche, Audi(s), Volkswagen and Kia.
Jack Daniels Motors, Inc, with over 40 years of experience, is a worldwide leader in its field with headquarters located in Upper Saddle River, New Jersey.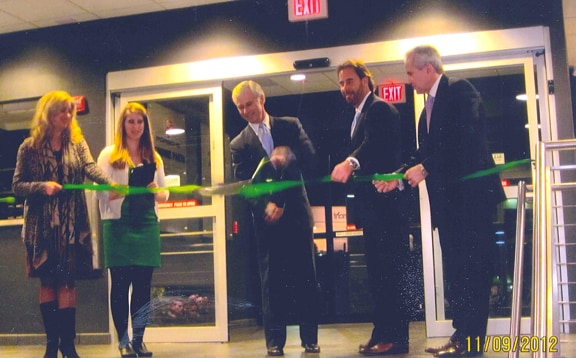 Amberjack Solar Energy and, Jack Daniels Motors, Inc collaborated to install approximately 5,000 new solar panels, on 5 dealerships and will have them all producing solar electricity by the end of this year. Jack Daniels Motors is the first dealership in Northern New Jersey to commit to producing its own solar electricity on multiple dealerships, and one of select auto dealerships nationwide to commit at such a significant level. The new solar installation will produce approximately 1.5 million kilowatt hours of electricity each year, for 25 plus years.
ENVIRONMENTAL ATTRIBUTES: The new 1.2 - megawatt DC solar system will offset a total of 17,375 tons of carbon dioxide over their lifetime; the environmental benefits of such a large installation are equivalent to those gained by planting more than 5 million trees and eliminating over 45 million automobile driving miles.
"The incorporation of a solar energy system at Jack Daniels is a huge commitment to the environment and to our community," says Jack Daniels, VP of Jack Daniels Motors, inc. The Daniels family was instrumental in the decision to convert their facilities to solar energy and Amberjack is excited to begin a partnership with them.
"Jack Daniels Motors, Inc was built on the trustworthy nature and quality of its products," says Mike Daniels, Vice President. "Being able to participate in environmental responsibility on such a large scale is just another way that the company can assure all of its customers and neighbors that Jack Daniels Motors truly cares about them."
For more information about the environmental and economic benefits of solar energy, or to determine a property's solar PV capabilities and needs, contact Amberjack Solar Energy at (877) 901-SOLR (7657) or go to http://www.amberjacksolar.com.
# # #
About Amberjack Solar Energy:
Amberjack Solar Energy, headquartered in Oakland, NJ specializes in the sales and installation of customized solar photovoltaic systems for commercial and industrial properties, including office buildings, warehouses, and schools. By converting clients' properties to 100% solar energy, a clean energy alternative, Amberjack helps customers increase their companies' profits by lowering total energy costs through the delivery of free electricity off the power grid. Amberjack Solar Energy serves customers throughout New Jersey, New York, Connecticut, Maryland, Massachusetts, North Carolina and Puerto Rico. For more information, visit www.amberjacksolar.com.
About Jack Daniels Motors, Inc:
Jack Daniels Motors, Inc boasts personalized product delivery and service from each of its five luxury auto dealerships in Bergen County, New Jersey. Jack Daniels Motors, Inc has distinguished itself as the leader in automobile sales and service. The organization is a nationally recognized seller of Porsche, Audi, Volkswagen & KIA automobiles. Accomplishments include the highly coveted Audi Magna Awards, multiple Audi Top Selling Dealer awards, Top 25 Porsche Dealer in America, as well as Top 20 Volkswagen Dealer awards. The company, currently owned and run by the Daniels Family, is guided by John (Jack) J. Daniels IV and his brother Michael V. Daniels. Since 1972, Jack Daniels Motors has earned well over 40,000 customers as a result to its commitment to excellence.
For more information, please visit www.jackdanielsmotors.com or call 1-201-796-8500.