In the mountains of Vermont near the Sugarbush Ski Resort is where the 2013 Porsche Winter Driving Experience took place. This event is an incredible opportunity where people have opportunity to experience the Porsche line up in a winter environment. The purpose of an event like this one is to present people the opportunity to drive, yes drive, the Porsche Carrera S's in Vermont's wintery mix. What Porsche wants to bring to light is the notion that people assume a Porsche sports car is a vehicle you don't drive in the winter. Well, those people are wrong and the 2013 Porsche Winter Driving Experience is the event to prove it.
As mentioned above, Porsche will demonstrate the safety, control and stability of the 2WD and 4WD Carrera S's. The sports cars are all models customers would buy. They also have their proper winter tires on. Porsche chose Vermont because the roads in are covered in packed ice and snow which simulates driving on a slippery winter road, all while practicing in a safe area.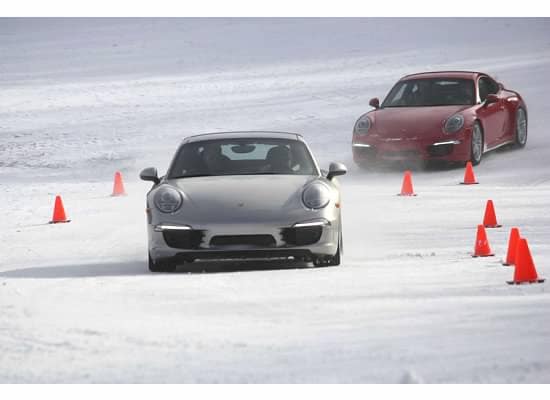 The street drive portion of the event, the option to drive the Panamera 4 and the Cayenne Diesel which are both 4WD vehicles. Not only did the drivers get to experience some real winter driving, but the beautiful mountainous scenery of Vermont. The drivers are guests of Porsche dealerships from all over the Northeast. Some of the drivers are already Porsche owners and some are not.
The outcome of the event was excellent, people were extremely happy and surprised at the control the Porsches kept. "It drives like a dream" one driver said. No slipping and sliding, the tires just grabbed hold of the ground like "tiger paws" another explained. Porsches turned out to be a good vehicle choice for those who live in Vermont!
Check out our Inventory ->
Jack Daniels Porsche