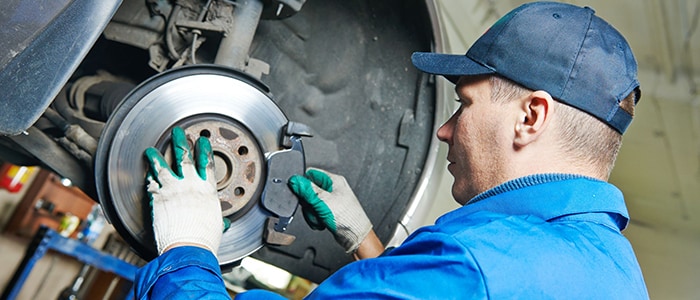 If you've ever visited one of our service centers, you know we stress the importance of routine maintenance. It's necessary to protect the investment you've made in your car and preserve your vehicle's resale value, but it's also vital that you keep an eye on your car's most critical components - such as the brakes.
The safety and wellbeing of our customers is our greatest concern, and when it comes to the safety of a car, there's perhaps nothing more crucial than a set of functioning brakes. The service centers operated by Jack Daniels Motors are here to make sure your brakes are always working as intended. You deserve the confidence of knowing they'll be ready when you need them.
Brakes Service and Maintenance in the Tri-State Region
If you've purchased a vehicle from a Jack Daniels dealership, there's a high chance it requires better care than the average mechanic can provide. Cars from the likes of Audi, Porsche, and Volkswagen are products of superior engineering, so they require superior equipment and training. Our factory-certified technicians are able to give your car that level of care.
We use only OEM parts and equipment to inspect your brakes in our service centers, and our technicians will be able to accurately diagnose what you need. You might need new brake pads. Your brake rotors could be misaligned. Or your brake discs might need to be replaced. Whatever the issue is, our staff will find a solution and have your car back to you as soon as possible.
If you're worried your brakes aren't functioning properly, pay attention to these warning indicators:
High-pitched squealing when you step on the brake pedal
Grinding or scraping noises when braking
It takes longer to stop than normal
Vibrations in the brake pedal and steering wheel
Your car pulls to one side when you brake
Low Brake Fluid dashboard icon lights up
If you experience any of these while driving, you should schedule a service visit right away. Waiting might only make the problem worse and more expensive to fix. If you bring your car to Jack Daniels Motors we can resolve your issue before it gets out of hand or before it becomes dangerous.
Staying on top of your vehicle's recommended maintenance schedule is a good way to avoid those issues altogether. Our service advisors can let you know when to expect brake service and make recommendations on when to swap out your brake pads and more.
If you have questions about brake service, repair, and replacement, or if you would like to schedule a visit to any of our service centers, feel free to contact us at your earliest convenience. Jack Daniels welcomes customers from Fair Lawn, Paramus, Upper Saddle River, New Jersey, and New York City. For the best service in Bergen County, New Jersey, you know where to go.