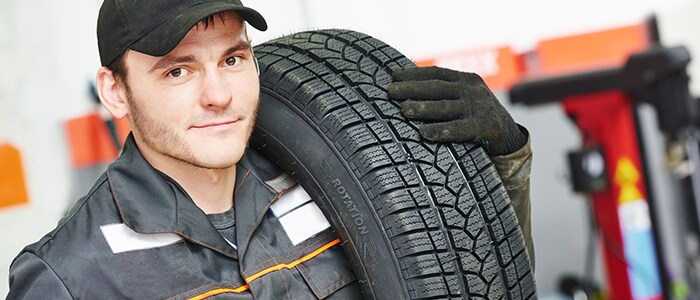 Jack Daniels Motors offers only the best service to our customers. That promise extends to the services we provide for replacement tires and tire maintenance.
Your car's tires are of the utmost importance to making sure it runs properly. When you drive a high-performance car like an Audi, a Porsche, or a Volkswagen, the tires are what carries the engine's power to the road under your wheels. Keeping your tires in good health will maximize your performance, and the professionals at Jack Daniels know how to care for your tires - offering greater expertise than your average tire shop.
The state of your tires will affect everything from your vehicle's traction to its fuel economy. Knowing when it's time to replace your tires can save you a lot of money. It's important to monitor the tread level, air pressure, and alignment of your tires.
Tire Basics: Tread Level, Air Pressure, and Rotation
All tires will eventually wear down. It's just what happens after so many miles driving. If you wait too long and your tires go bald, you might be putting yourself in a dangerous situation. You don't want traction to give out when you need it most.
Checking your tread level is easy if you do the penny test. Hold a penny between two fingers and insert it into the tread of each tire head first. If you can see any of Abe Lincoln's head, it's time for a new set of tires.
Air pressure is easy to check if you have a pressure gauge, and you can find the recommended pressure level in the owner's manual of most cars. It might also be on a label inside the driver side door jamb. Pay attention to how your tires are wearing, too. If you notice uneven wear on any of your tires, they may be over or underinflated.
Many new cars come equipped with a tire pressure monitoring system, so you should also pay attention to your dashboard when you turn on your car. You might see an alert regarding your tires.
Tires are also prone to wear down differently depending on their position on your car. To get the most out of a single set of tires, it's good to have them rotated back to front and left to right. It's best to have help from professionals when performing rotation so your car's alignment doesn't get thrown off.
Replacement Tires and Maintenance in Bergen County, NJ
If you find that your tires are in need of repair or replacement or if you need an expert opinion, you should schedule a service visit at Jack Daniels Motors. We will not only give you a quick and accurate answer, but we can also provide personalized service that's appropriate for your model.
Makers of high-performance cars like Audi and Porsche publish a list of recommended tires for each of their models. These lists are often the result of a direct partnership with the tire maker in question and can usually be traced back to the car's development phase. Owners of these models will be happy to know we keep all of the recommended tires in stock at our dealerships, so you'll never have to hunt down the set that's best for your car.
In addition to replacing tires, we can also perform basic tire maintenance such as rotation and alignment. Your Porsche is a finely tuned machine, and it takes factory-trained hands to make sure these tasks are done correctly. It's not a job you would want to trust a freelance mechanic with. Let the experts handle it.
We also carry a full stock of popular tire brands at our Kia and Volkswagen stores, and all of our tire centers can help you make a switch from winter to summer tires, and vice versa, when the time is right.
It's our goal to give you a destination for all your tire needs that you know you can trust. Jack Daniels Motors welcomes customers from Fair Lawn, Paramus, Upper Saddle River, Jersey City, and New York City. We hope you will find what you need at one of our dealerships, and we invite you to schedule a service visit at your earliest convenience.